'Retail therapy' wrecked their finances. Here's how three shopaholics struggled to kick the compulsive spending habit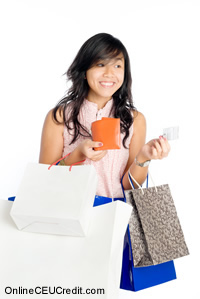 Talk about temptation. Keisha(*) worked at the mall. At lunchtime she'd pop into Saks or Nordstrom "just to look." Then she would notice something she hadn't seen before. Sleek jeans. A figure-hugging skirt. Clothes with designer details that make a girl feel special. Approving of her reflection in the fitting room, fingering the fabric or admiring the drape over her curves, she'd think, I'm 'bout to look cute!
"I'd figure, I'm single with no kids. I can get what I want," explains Keisha. Bags. Earrings. Suits. If it was unique, cost almost didn't matter. "Well, I did have a $300 limit on shoes and a $500 limit on boots," she says. She was 26 at the time and making $7.85 an hour.
Bored? Banana Republic. Depressed? Dolce & Gabbana. Keisha didn't know it, but she's a shopaholic--a compulsive spender who gets a rush from a "find" or a "bargain." Often as destructive as compulsive eating or gambling, this "designer" disorder is harder to spot--the afflicted appear attractive, successful and always pulled-together. But many are wearing their paychecks on their backs and driving cars they can't afford. Some rely on payday loans or use credit cards to finance a loaf of bread. As they spiral into debt, credit is wrecked. Homes are lost. Relationships suffer. I should know. Thirteen years ago, before I was in private practice counseling people like Keisha, I was digging myself out of $50,000 worth of debt as part of my own recovery.
Behind the Urge to Splurge
For the typical shopper, that Tracy Reese dress or Prada bag is just merchandise. For a shopaholic, it's medication. Women often joke about "retail therapy." But that laughter can mask depression, loneliness or boredom. Shopping is an easy way to numb ourselves or boost our self-esteem, even if relief only lasts until buyer's remorse kicks in. A shopaholic will fill her emptiness with "stuff" she doesn't even need. That void, in reality, may be from years of emotional or spiritual deprivation: fear that there's never enough, whether it's money, material objects, recognition or love.
Others among us may have simply developed a sense of entitlement, unconscious of the true cost of all those items we bought "at a steal." Take Nicole, 22. As a college student, she gave her new credit cards a workout, mostly on catalog clearances and specials. She figured she was "saving money." After all, before she was on her own, she'd developed expensive tastes, thanks to parents who sprang for $400 Louis Vuitton handbags and other luxury items. But when her balances grew to $4,000, she realized she was in over her head--and begged her parents to bail her out. Now out of school and making $40,000 a year as a sales assistant, she still looks for an occasional handout. Until she realizes that money doesn't grow on family trees, she'll never be financially independent.
Then again, if you're malting good money, where's the problem? Shopaholics often think that getting a promotion, a raise or a second job is the answer. But compulsive spending tends to be relative. As the stories that follow illustrate, whether their salary is $20,000 or $100,000, these binge buyers tend to pay out more than they're taking in:
It Felt Good to Drop a Charge Card Down – Keisha, 32
Clothes Encounters
We've already met Keisha, who at 26 was earning a low hourly wage at the mall. Her rent was $422. Her car note was $350. Earning $20,000 a year, Keisha paid her bills late and financed her "finds" with plastic. She knew interest rates were high but decided, if push came to shove, she could always find a second job.
Meanwhile, "it felt good to drop a charge card down," Keisha says. Two years later she switched to a $23,000 a year telemarketing job and figured that things were under control.
Closeted Issues
Money trouble was nothing new to Keisha, who said she had had enough of doing without. She was the oldest of five kids, with a mother who struggled to keep them all afloat. New clothes and other desired items were hard to come by: the trendy red Levi's she'd been promised at 15? "We can't afford them, Baby." The weekend trip with the youth group? "Unpack your bags. The money's not there." God knows her mother tried. But Keisha's stepfather was an addict. He rarely supported his wife--and sometimes stole from her. In a household gripped with chaos and drama, surviving day-to-day took priority over paying bills. "I'll pay you when I can," a line Keisha repeated to creditors, was learned at home. Keisha also learned that she couldn't depend on money being available, so when an opportunity came, she had better jump on it. With a childhood full of broken promises, it's not surprising that anger morphed into entitlement. Shopping gave her the sense of power and control that she lacked growing up.
Paying the Price
Two years ago Keisha suffered a medical emergency, and costs that insurance didn't cover mounted to $6,500. With a credit-card balance of $3,500, Keisha was over the edge. "Creditors threatened to garnish my wages. It was embarrassing," she admits. After months of collection-agency phone calls and narrowly avoiding the repo man, Keisha decided, "I want to be a Black woman with good credit."
Retail Recovery
When Keisha made up her mind, there was no stopping her. In 2002 she found a new job as an office manager. The salary was $33,000. Keisha moved home with her mother to slash expenses. She was determined to pay off each creditor. Slapping down chunks of cash to erase her debt felt as good as dropping that plastic once did. With her first paycheck, she paid off Sears: "I was like, 'Hallelujah!' People in the store thought I was crazy. But I didn't care." Then she really got motivated and took all her extra money--change in her purse, deposits from bottles and cans, and yes, income from a second job--to pay bills.
Today Keisha is free of credit-card debt, and she's sticking to a payment plan to eliminate the medical bills. Now she can honestly say, "I'm a Black woman building good credit!"
'I had to dress better than anyone else.' – Mona, 37
Clothes Encounters
Mona's closets boast the latest looks from Vogue and InStyle. "I have expensive taste in corporate attire," admits the former account executive. Her mainstays? "Chanel, Calvin Klein and Ralph Lauren." But when she began staying home more to rear a toddler and a preschooler, she started to hit H&M and Gap for casual clothes. Above all, Mona believes that shoes make the outfit. While the average woman has 30 pairs, Mona has 60--that is, after she cleaned her closets and gave away 40. "I work hard raising the children," she'd say to justify the purchases. If Mona was driving past the mall, she would just pop in. Up until three years ago, she had earned $100,000 annually. Because her husband, lay, earns a similar income, she was still used to buying what she pleased.
Of course, it dawned on her that she should probably cut back, especially after she left a telecom firm in 2001 to start her own business. But attracting clients was slow going. Then came the second baby and other family obligations (both her mother and brother became terminally ill, and Mona helped care for them until they passed away). Mona opted for a hiatus, leaving Jay as the breadwinner until her return to the workforce. But she remained confident that a key to future success was flawless self-presentation, especially when competing for business with Whites. "Professionally, we must be 200 percent" she said, citing the be-twice-as-good work ethic many of us were raised with. "There's no second chance to make that first impression." In the past, if that meant springing $1,200 for two Donna Karan suits, she had considered it an investment and would dip into her 401(k). The suits just hang in her closet now.
Closeted Issues
Social pressures also fueled her spending. "I had to dress better than anyone else. I had that reputation among my friends," Mona explained. She recalled the warm feeling she got as a child when her mom would praise her appearance. After Mama was gone, Mona still craved that feeling: "If I don't get compliments, I try harder." But further reflection uncovered another reason Mona was determined to impress: She had internalized the age-old prejudice related to color. "I'm often told that I'm very pretty for a dark-skinned woman," Mona said. "So I have to look my best."
Paying the Price
Ten months ago Mona and Jay paid off her $15,000 credit-card balances with a refinanced mortgage. But rolling the credit debt into the new loan meant that those Donna Karan suits wouldn't be paid off for 30 years! Jay began handling the bills--and she could feel his resentment. "I'm to blame for our money problems," Mona admitted. She tried to cut back. She canceled all but one credit card, but failing to control her lust for labels, she charged $6,000 in just nine months.
Retail Recovery
Mona's now working three days a week. And she's beginning to work on her self-image. She will never be able to buy enough clothing if she sees her flawless coffee complexion as a detriment. If Mona can channel this awareness into action and create a budget, her bottom line may one day look as good as she does.
12 Steps to Retail Recovery
No, you don't have to go from Gucci to gunny sacks. Here's how to be a frugal fashionista:
Create a "shopping diary." Record purchases for a month. What time is it? Where are you? How do you feel before buying the item? What about after? Do you need the item or just want it? How much does it cost?



Look for patterns. Do you shop out of insecurity? In celebration? Out of boredom? Write one page on each motive. Detail how overspending affects your financial security, and how life could be happier with some changes.
Set a goal for saving, with an amount and a target date. For example, "I'll save $600 for emergencies by this time next year." By setting aside $50 per month you can meet it.


Create a monthly spending plan detailing your needs (necessary expenses, savings) and wants (a set amount for shopping). For help creating a budget, get out your diary, then visit the Web sites quicken.com or bankrate.com.
Save automatically with payroll deductions.

Cancel all but two credit cards. Put those out of reach--in a safe deposit box or frozen in ice. You'll avoid impulse buying.
Remove temptation. Cancel catalogs. Don't shop on lunch breaks or kill time at the mall.


Scout out cheap chic. Look to consignment shops or clothing swaps with friends to refresh your wardrobe.


Remember, sale is a four-letter word for recovering shopaholics. Seeing a good deal doesn't mean that you have to buy it.
Meet with a financial professional yearly to assess your needs, make plans to reach your goals, and keep on track.


Consider that trendy items you'll trash in a season are more costly than classics: In 2001, I paid $2,200 for five pieces of St. John suiting: a skirt, slacks, two jackets and a tank top. The black knits travel well and don't show dirt during weeklong trips. Since I wear at least one of these pieces three times a week, I've already worn the suit 504 times at $4.37 per wear. It actually cost me less than say, a $20 top I've worn twice.
Clean out your closet. You won't believe how much fun you'll have "discovering" outfits you already own!
- Bridgforth, Glinda;
When shopping is a sickness;
Essence; Aug 2004; Vol. 35; Issue 4.
Personal Reflection Exercise #5
The preceding section contained information about when shopping is a sickness. Write three case study examples regarding how you might use the content of this section in your practice.
Online Continuing Education QUESTION 12
What are the two main concepts behind the urge to splurge? To select and enter your answer go to .