Challenging behaviors
Behaviors that the carers identified as challenging among loved ones with AIDS dementia were repetitiveness, aggression, seeking/tracking, and nocturnal problems (see Table 1). Frustration centered on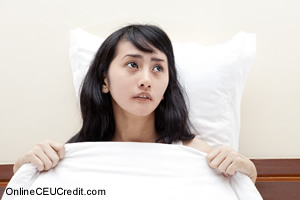 continuously having to provide prompts, think for the person and anticipate safety issues. Most members of the group also mentioned the frequency and severity of behaviors. Some found difficulty coping with unfounded accusations - for example, being blamed for stealing misplaced items.
One frustration was being constantly followed or asked the same question repeatedly and, to help in such situations, Bourgeois et al (1997) advocate the use of memory wallets. These contain information about someone and are carried on the person. They help prompt memory and may be particularly useful in unfamiliar surroundings. Two members agreed that caring was 'like having another child in the house, only worse'.
Coping strategies
Coping strategies adopted by group members encompassed a range of diversional techniques and the general consensus was that everyone was different. What was helpful was that those techniques that had shown to be helpful were used time and again. One man encouraged his wife to continue to do the washing-up but said: 'She's no longer able to do this properly; later I re-wash them.'
One daughter disclosed how at times she would cry, which released tension. A husband described how he coped by trying to maintain a sense of normalcy, which included continuing to provide a four-course lunch each Sunday just as his wife had done, although he admitted that she was no longer able to appreciate the meal and it frequently had to be discarded. During the discussion he acknowledged that trying to pursue alternatives such as casseroles would ease the burden on him, and this links with the suggestions of Clarke (1999) that focus groups can provide vehicles through which participants can share ideas and common experiences.
Support
Most group members felt isolated and shouldered the burden of care. Some lacked the support of a family living close enough to be able to help. One daughter said at times she indulged in self-pity, thinking 'why me, what about the rest of the family?', although she said that such feelings did not last long.
The empathy between two carers was apparent as one admitted that her own children did not understand their grandmother's condition and there was wide agreement that family and friends did not fully appreciate the problems. In some instances this led to further feelings of isolation as friendships suffered too. Some carers highlighted that family support could have been available, but for various reasons was not forthcoming.
Others said they did not wish to be a burden on their families. It could be argued that some carers concealed from family members the extent of the problem in order to compensate for their relative. This may have been an attempt to protect their dignity in the face of failing mental powers. Providing care for highly dependent people is often undertaken by one family member and there is a wealth of literature to support this assertion (Wicks and Henwood 1988).
Carers are entitled to an assessment in their own right and, as postulated by Nolan and Grant (1989), community nurses are in a pivotal position to enable them to exercise this right. The community mental health nurse is also appropriately placed to provide therapeutic interventions and facilitate access to much required services (Keady and Adams 2001). Thus carers do not need to feel that they are shouldering the burden alone and can enjoy the added assurance that they are not abusing the hospitality of other family members or friends.
Experiences of support from statutory services varied, for example with delay in diagnoses or no support available once a diagnosis was made. Others experienced psychological support from the community mental health nurse. The ability to access day care and respite facilities in the form of shared care was welcomed, although not all the carers used this. Equipment provided by the occupational therapist was generally agreed to be useful. One carer said: 'Knowing the bed rails are there puts my mind at rest.'
Those receiving day care or respite appreciated it. One man said: 'By the time respite comes around I'm ready for it.' Interestingly a man who continually refused any form of services or advice relating to the benefits that support groups provide said how helpful he had found the focus group as a means of being able to discuss issues with others in a similar position. This is consistent with Kitzinger's (1995) assertion that the potential exists to change opinions, which may not otherwise occur during one-to-one interactions.
Drawing on a plethora of literature, Adams (1999) supports developing partnerships to provide appropriate support networks for family carers. As detailed in the work undertaken by Aneshensel et al (1995) the changes encountered by carers during role acquisition, role enhancement and role disengagement as dementia progresses necessitates adjustment.
In this respect it would appear appropriate to assist carers with adjustment. James (1999) undertook work with carers to facilitate coping with a range of issues from recognizing how distorted thinking can perpetuate feelings of anger, the development of gaining a new perspective on these, managing the practicalities of activities of daily living skills to legal and financial aspects.
Education
There appears to be a lack of information once the initial diagnosis is made and all carers highlighted a need for increased knowledge of what to expect. One described feelings of inadequacy in dealing with a situation where he realized something was wrong but was unsure what exactly. Zhou et al (2004) observed that 'close family members have often failed to recognize, or are hesitant to discuss, signs of dementia with physicians'. One carer admitted: 'I thought it was just the ageing process.' It was only following a fall that he realized that his wife had dementia. As Gilleard (1984) reports, this is frequently what alerts carers to the reality of the situation.
In recognition of a lack of awareness of changes that occur in the early stages, knowledge of the psychology of dementia — for example denial, adaptive paranoia and avoidance behavior as identified by Stokes (2000) — may enable carers to better understand the condition.
This reinforced to the practice development team the need to pursue the production of a video to explore the issues the carers had raised — for example, the behaviors that caused concern along with explanations of why these may occur and ideas for minimizing them.
Enlisting the expertise of a consultant clinical psychologist, who provided a narrative throughout, facilitated a theoretical background and explanations outlining possible reasons for challenging behaviors. It was anticipated that this would be easily transportable and available to carers through a lending system.
- Scon, Ann, Deirdre Lewis, Nicola Loughlin, and Mary Chambers; Dementia and challenging behavior: the needs of family caregivers; Nursing Older People; March 2005; Vol. 17 Issue 1
Depression in Adolescence


- Thapar, A., Collishaw, S., Pine, D. S., and Thapar, A. K. (2012). Depression in Adolescence. Lancet, 379(9820). p. 1056-1067. doi:10.1016/S0140-6736(11)60871-4
=================================
Personal Reflection Exercise Explanation
The Goal of this Home Study Course is to create a learning experience that enhances your clinical skills. We encourage you to discuss the Personal Reflection Journaling Activities, found at the end of each Section, with your colleagues. Thus, you are provided with an opportunity for a Group Discussion experience. Case Study examples might include: family background, socio-economic status, education, occupation, social/emotional issues, legal/financial issues, death/dying/health, home management, parenting, etc. as you deem appropriate. A Case Study is to be approximately 150 words in length. However, since the content of these "Personal Reflection" Journaling Exercises is intended for your future reference, they may contain confidential information and are to be applied as a "work in progress." You will not be required to provide us with these Journaling Activities.
Personal Reflection Exercise #1
The preceding section contained information about caregiver concerns and AIDS dementia. Write three case study examples regarding how you might use the content of this section in your practice.
QUESTION 8
What is a strategy recommended by Scon for carers dealing with being constantly followed or asked the same question repeatedly by a loved one with AIDS dementia? Record the letter of the correct answer the